Accessing Your Year-End Forms Online
Need to print off your W-2 or paystub?
Follow the link below for step-by-step instructions: 
Make sure your Legal Name is entered into Dayforce:
Your Year-End Tax Forms will need to display your LEGAL name, double check your Personal Information in Dayforce to avoid any mishaps when filing your taxes: 
Make sure your address is up-to-date:
Year-End Tax Forms will not be available for on-site pickup, they will be mailed directly to the address on file in Dayforce, please ensure the address we have for you is up to date:
I swear I worked in 2021 but I don't have a W2, what's up? 
2021 W2s are issued if you were PAID in 2021. If you worked at the end of December then were paid in January, those wages will go towards your 2022 W2. Check your earnings statements (paystubs) to double check!
Can you do my taxes for me?
Nope! But check out the "Help With Taxes" link below for more information:
How to be a beacon of sustainability:
First, give yourself a pat on the back for saving paper, you rock! Second, it's super simple!
Here's how to go paperless: 
Step One:
On a laptop or desktop: www.dayforcehcm.com 
Go to Profile and settings
Step Two:
Scroll Down.
Click on the Blue Pencil next to
"Year End Form Delivery"
(See picture)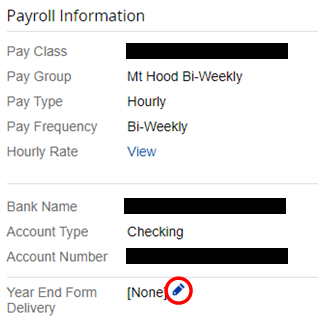 Step Three:
Check the box next to W-2 and Click Approve (see picture below)

Step Four:
Done! You will now only receive your W-2 electronically and save postage and paper!