W2's have been mailed…
Thank you for picking up your W2's from the HR office everyone! Any W2's that were not picked up have been mailed out. 
However, you can still access them online!
Follow the directions below to log into your ADP account and view all sorts of great information like pay statements, sick-time balance, pay periods, etc!
First time user? Click on "Register Now"
Enter the Registration Code which is:  MtHoodMLTD-ADP
Click "Enter Information" and follow the prompts! You may be asked for  your social security number
Join us for any of these FREE upcoming classes!
Login to the Talent Center for more details on our NEW wellness benefits with Brian Patterson at Peak Mortgage!
Core Value PASSION:
Celebrate the natural wonder of our mountain and the recreation it provides with each other and our guests. With recent storm cycles the stoke is high for powder and tree skiing. More powder also brings more hazards and risks – both in and out of bounds.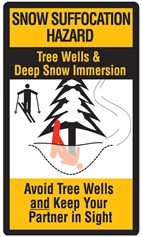 One Hazard to watch out for is Tree Wells. A tree well is a void or depression that forms around the base of a tree and can contain a mix of low hanging branches, loose snow and air. The trees found at Mt Hood Meadows all have potential for tree well danger. In particular, deep tree wells can form when low hanging branches block snow from filling in. These voids can be hidden from view by the tree's low hanging branches.
Falling in a tree well can be life threatening. Fatalities occur each year from tree wells within the boundaries of ski resorts. Be sure to ski and ride with a buddy to reduce some of the risk while skiing powder and trees.  For more information on tree wells, and to see one in action, visit: http://www.deepsnowsafety.org/index.php/tree-wells .
Educate yourself further and attend the FREE Avalanche Awareness Course put on by our very own Meadows Snow Safety and Patrol team. The course is on February 12th from 1:30 – 3pm in the Vertical North. Attendees of this avalanche course will receive a special discount on Mountain Savvy Avalanche Rescue courses.
Job Posting Spotlight: Uniform Coordinator
We are growing our team in Human Resources and looking for another member to join! This individual will be taking the lead in uniforms for the remainder of the season. This is a great opportunity to get exposure to personnel administration and human resources in a fun, friendly, team-oriented environment.
CLICK HERE  for more details or to apply!
Know of someone else who may be a good fit?
Send them the link and tell them to put your name in the "referred by" field in the application (Potential referral bonus!).
Updates to the Bus Schedule
There will no longer be a 4:45pm downhill employee bus to Hood River on weekends/peak days. There will continue to be the 4pm and the 5:15pm downhill options, as well as the 6pm and 7pm Peak Day Shuttle options.
Updated bus schedule below: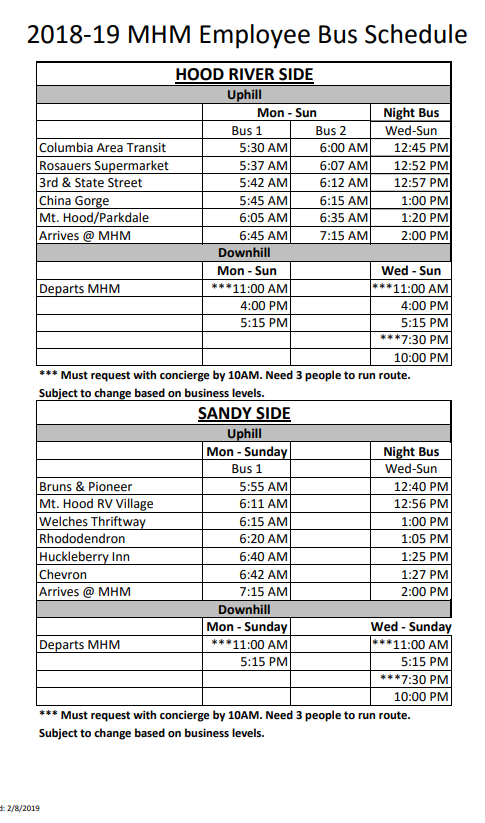 Wellness Dates:
Group Acupuncture with Nikki
Monday, February 11th
In Vertical North
11:00am to 1:00pm.
*no sign up required
Avalanche Awareness Course
Tuesday, February 12th
1:30 to 3pm
In Vertical North
*no sign up required
Thank you!
-Your Human Resources Team