Team Newsletter – 9.23.22
Town Hall - September 27th
Join us Tuesday, September 27th from 4pm - 5:30pm for a Meadows & Cooper Spur Town Hall. Discussion Topic: 5-year plan
All team members with access to the Meadows network are required to watch the PCI Cybersecurity Traning and complete the questionnaire. If you are unsure if you are required to complete this training, please reach out to the IT Department. 

You can watch the training and complete the questionnaire by hovering over the "Quick Links" menu at the top of the Team Site, then selecting "Cybersecurity Training".
Or, select the link below: 
Covid Response Team: Rebranded!
The Covid Response Team is now the Covid Resource Team!
We are no longer taking call-in reports. You now follow your department's call-in procedure and speak directly with your manager/supervisor. We still follow what has kept us successful for so long – STAY HOME IF YOU ARE SICK.  If you have symptoms of a transmissible infection you cannot return to work until cleared by your manager. When you have been fever free for at least 24 hours and your symptoms have resolved, you may contact your manager to be cleared to return to work. More details are being updated on the Team Site and our Infection Prevention Plan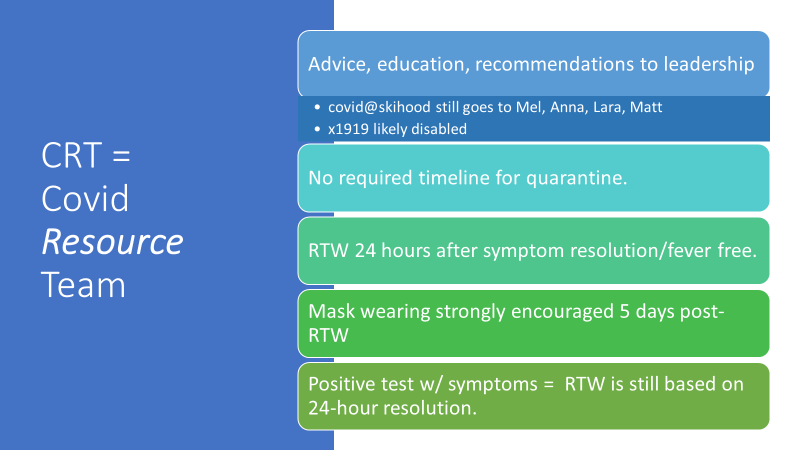 Hey Team!
We are looking forward to welcoming our team members back to Meadows for the upcoming season as well as folks who will be joining us for the first time. We are creating our recruiting messaging and we are looking for folks who would like to help provide some content for our social media campaigns.  We are looking for team members who would like to share why they enjoy working at Meadows and Cooper Spur. What is it that makes Meadows/Cooper different from other jobs? We're looking for personalized messages from our team, that we can use in our recruiting campaigns on various platforms and with candidates who are interested in working here. 
If you are interested in sharing, what we'd like you to do is to record your message on your cell phone and send it to us. It doesn't have to be very long – maybe 30 seconds to a minute or two – as long as it conveys your feelings. Or you could simply write out your thoughts and email them to us. We feel having these more personalized messages will resonate more with candidates considering working here this winter. Maybe last year was your first season, and you're reflecting on all the things you learned. Or you want to talk about the friendships you've made and how you enjoy working together with others to create awesome experiences on the mountain. It's up to you and your feelings about Your Mountain Home. 
We may use your message unedited or reach out to do more of an interview. Ideally, we'll have some great stories that we can share socially this month and help assure candidates that Mt. Hood Meadows is where they want to work this winter, and beyond. 
If you are interested, please work with your manager to ensure some time while at work for you to record your video.
You can send your recorded message to marketing@skihood.com (you may need to use WeTransfer.com or another file sharing service depending on your file size. Or if you want to submit something in writing – simply email it to marketing@skihood.com.
Thanks!
Pre-Season Resources for Returning Team Members
Re-Applying through Dayforce
If you are a returning team member for the 22/23 season, we ask that you reapply for this winter through Dayforce. If you need help getting back into Dayforce to reapply, please reach out to Human Resources by emailing: jobs@skihood.com. 
Help us recruit & get rewarded! 
If you refer someone to work at Meadows or Cooper Spur, you could be eligible for a $50 referral bonus!
Referred individuals must have never worked at Meadows or Cooper Spur in the past, and must mention your name on their application. Learn more about the Refer-A-Friend program guidelines below: 
Our Employee Housing availability is still being configured for the 22/23 season, we will update you when we know how many open spots we have for Meadows/Cooper team members. 
The Turns 4 Tenants program is live and continuously accepting landlord applications. If you have been offered and accepted a full-time position with either Meadows or Cooper Spur, you may reach out to your manager or supervisor to gain access to the 22/23 T4T List. The T4T program is only available to full-time team members. 
Be sure to visit our Housing Resources page for more help finding housing near the mountain. If you're looking for roommates, post an ad on the Team Site Classifieds! Look for "Classifieds" on the main menu at the top of this page.
Questions about housing?
Email: housing@skihood.com
The Human Resources office is currently staffed Mon-Fri, we're here to answer your questions and help in anyway we can. 
You can reach the HR Team
via email: jobs@skihood.com
via chat: click the blue chat button in the bottom right corner of your screen
via phone: 503.337.2222 ext. 1388
As we get closer and closer to the 22/23 Season we'll be posting more openings with Meadows & Cooper Spur, check out the list below for current openings and apply through Dayforce today! 
Human Resources Generalist
Daycare Teacher
Housing Programs Supervisor
CDL Bus Driver
Public Safety Officer
Facilities Technician
Rental Supervisor
Uniform & Team Services Coordinator