Using your head and your heart
Mt. Hood Meadows & Cooper Spur Mt. Resort have 5 Core Values that all team members are encouraged to embody.
PASSION
Celebrate the natural wonder of our mountain and the recreation it provides with each other and our guests.
SUSTAINABILITY
Respectfully balance the environmental, social and financial aspects of our business in harmony with Mt. Hood.
INTEGRITY
Conduct ourselves predictably and professionally, honestly and ethically without compromise.
SERVICE
Dutifully and consistently anticipate the needs of our guests and impress them with uncompromising service.
WELLNESS
Refresh ourselves physically, emotionally and spiritually, promoting fitness, safety and responsibility to all who work and recreate here.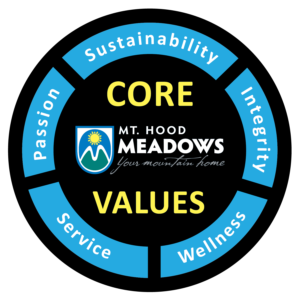 The team members listed below have displayed, in various ways, how to be responsible Meadows citizens.
No entries match your request.