Summer Team Newsletter 7.13.21
Dayforce Mobile App Upgrade Announcement for Andriods:
As of the 60 Service Pack 3 (60.3) release, which will be available on July 26, 2021, the Android Dayforce mobile application will require devices to upgrade to Android version 6 or greater before receiving new Dayforce mobile application updates. Dayforce mobile versions prior to 60.3 will continue to operate as usual on devices running Android 5. Please note that a small number of devices cannot upgrade beyond Android 5.
Dayforce Mobile: Feature Navigation Redesign
The new 60.3 Dayforce Mobile App Updates include app appearance changes as well.
This new design will increase feature navigation efficiency and better align the design of the Dayforce mobile application with many of the consumer mobile applications that we interact with every day.
This new design facilitates efficient navigation between features by using the new bottom tab bar. As well, mobile users will be able to customize their Dayforce mobile experience by adding and modifying the placement of favorite features, which persist in subsequent mobile sessions.
With this update, Dayforce mobile users will enjoy a more efficient, personalized, and visually appealing user experience. 

Screenshots of upcoming Dayforce Mobile App updates below: 
Dayforce Wallet: On-Demand Access to Your Earnings
You will now be able to get access to your pay as soon as you earn it, at no cost to you. You can request on demand pay once per payroll. Dayforce will take into account taxes, deductions, and payroll elections. You can now access your pay when and where you need it most.
Use your Dayforce card wherever MasterCard is accepted:
in-store, online, over the phone, or to pay a bill.
Follow the link below for more information on how to get started with Dayforce Wallet: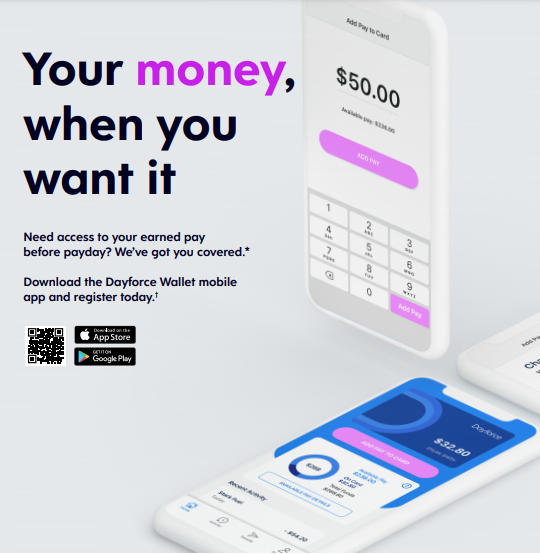 Webinar: Tools for Managing Stress and Building a Healthy Mindset
July EAP Webinar: Tools for Managing Stress and Building a Healthy Mindset
Wednesday, July 14th
12:00pm – 1:00pm
Everyone is stressed. The responsibilities of modern living can be overwhelming. Our mindset has a huge influence on our stress levels and on many areas of life, including physical and emotional wellbeing, relationships, and personal and professional success. In this seminar, you will learn techniques to manage and relieve stress and come away with strategies for making simple shifts in thinking that allow us to deal with challenging events more effectively and experience a greater sense of contentment.
Offered through our EAP.
New Cooper Spur Menus: Crooked Tree Tavern
New offerings at Crooked Tree Tavern! Follow the links below to view the new Food & Spirit Menu's down at Cooper Spur! 

Mt. Hood Meadows / Cooper Spur / North Face Inn has exclusive access to the Columbia Sportswear Employee Store from July 9th – August 1st!
WHAT THE EMPLOYEE STORE HAS TO OFFER:
Items are marked with EMPLOYEE pricing (Typically 40 – 50% off regular retail pricing)

All the latest product from the Columbia Sportswear Company family (SOREL, Mountain Hardwear, prAna, and of course Columbia Sportswear!
Don't forget to check out the latest trail running shoes from Montrail!
Learn more about our Tough Mother Funder 
here
. You can participate by rounding up your in-store purchase to the next dollar or donate more to support our 2021 non-profit partners who protect our environment, encourage people to go outside, and stay healthy.
WHAT TO BRING TO ACCESS THE STORE:
The attached invite (printed or shown on mobile phone – links attached below) 

Work /organization ID (business card, badge, pay-stub, signature of work email, uniform, membership card etc.) 

Personal photo ID 

This invite is valid for you + 4 guests

 (you must be present)

 

This invite grants store access only

 (offer not valid online)