Summer Team Newsletter 9.10.21
COVID Updates from the Executive Team:
Team,
As many of you are aware President Biden announced on Thursday, September 9th that through an Executive Order the U.S. Government will mandate that companies with 100 or more employees get vaccinated or implement mandatory weekly testing.  He has instructed the Occupational Safety and Health Administration, OSHA to draft the policy and implement it.  This mandate is not effective immediately as it must be written as policy and distributed. The policy will outline expectations, timelines, and surely include penalties for not complying.
We are unsure of the timing of when this directive will be published and enforced. We do know that due to the size of our company we will be subject to the mandate.  Our COVID Response and Exec Teams will be learning and working on how to manage this process to comply with the order and follow the rules from OSHA.  The timing of the roll out may demand flexibility from all of us as we finish summer projects and ramp up for opening winter operations. We will do our best to keep you up to date. 
We understand and respect the various positions that individual team members have on this matter. As a company we are not going to put our business at risk and go against a mandate.  Our goal is to protect our Team and keep things as simple as possible so we can focus on running a great resort.
As for now here is a link for vaccine locations near you that can get you ahead of this mandate should you choose that route.  https://www.vaccines.gov/search/

Your Leadership Team
Infection Prevention Plan & NEW Coronavirus Self-Checker
Regardless of your vaccination status, please stay home and contact your manager & the COVID Response Team if you are experiencing any one of these COVID symptoms: 
Fever or chills
Cough
Shortness of breath or difficulty breathing
Fatigue
Muscle or body aches
Headache
New loss of taste or smell
Sore throat
Congestion or runny nose
Nausea or vomiting
Diarrhea
NEW: Self-screeening tool from the CDC
The CDC has released a new online tool that allows you to self-screen your symptoms and provides guidance on the next steps to take. 

The new CDC Self-Checker is linked below and can be found on our COVID-19 Resources page under the Wellness tab.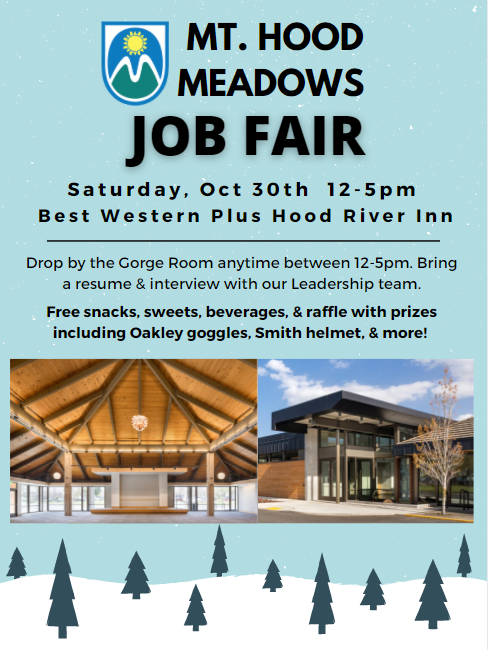 This is our biggest Job Fair event of the season & you won't want to miss it!
Meet the Mt. Hood Meadows and Cooper Spur Mtn. Resort Management Team. Free buffet of snacks, sweets, and beverages. All attendees will be entered in a raffle for a chance to win some awesome winter gear and MHM logoed swag!
1108 Marina Dr. Hood River OR 97031
Columbia Gorge Job Fair
Wednesday, September 15
@ Society Hotel, Gymnasium
11am – 2pm
Come by the Columbia Gorge Job Fair to learn about Mt Hood Meadows positions and get some cool MHM swag! All attendees will be entered in a raffle for a chance to win new Electric Goggles, Beanies & More!
Are your friends looking for work?
Have them come to one of our upcoming Job Fairs!
Have them list your name as a reference / referral on their application & then YOU fill out the Refer-A-Friend form below to apply for your referral bonus! 
Hiring Now! Start your season early & apply today!
Management Oppurtunities: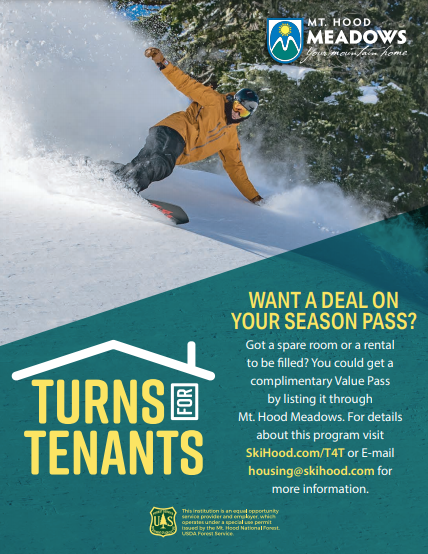 Turns 4 Tenants is now accepting Landlord Applications! Follow the link below to list your rental or room! 
Looking for a place to stay this winter? Check out the T4T List!
Follow the link below to view local rental listings from T4T Landlords!
New for the 21/22 Season: The T4T list will only be accessible for Full-Time Team Members, reach out to your Supervisor / Manager for the password! 
Supervisors / Managers: You may distribute the T4T List password to team members that have committed and accepted a full-time position at Meadows or Cooper Spur. The updated password can be found in the Human Resources Knowledge Base in Confluence, linked below. 
Recovery & Suicide Prevention
September is National Recovery Month as well as Suicide Awareness Month. Addiction and depression have a very close relationship and can affect anyone regardless of age, gender, or background. More than 90% of people who fall victim to suicide suffer from depression. 

Recovery is continued growth and improvement in health and wellness but may involve setbacks. Setbacks are a natural part of life; persistence is a key part of recovery.

Four things support recovery:
Health – overcoming or managing one's physical and mental disease(s) or symptoms to make healthy choices for physical and emotional well-being. 
Home – having a stable and safe place to live.
Purpose – participating in meaningful daily activities, having the independence, income, and resources to participate in society. 
Community – having relationships and social networks that provide support to you and you provide to others.
Reasons why recovery isn't a one size fits all:
Recovery, like life, is a journey, not a destination. people don't all struggle with the same addictions, so they won't all recover in the same way. 
Some people don't quit "cold turkey"; others use Medication Assisted Treatment (MAT) which can help detox, stabilize, and prevent the risk of relapse. 
Introverts and extroverts might have different recovery needs. Different types of support groups work for different people. 
Everyone will not need inpatient treatment overseen by a medical team. An intensive outpatient program (IOP) plus ongoing aftercare might be a better fit. Don't self-diagnose – or diagnose a loved one. Get an assessment from a doctor or a psychiatrist who has experience treating substance abuse disorders. 
If you or a loved one would like more information about mental health or substance abuse or need support to start or continue the recovery path, contact the Employee Assistance Program (linked below) and/or your primary care doctor. 
For more information on suicide awareness and prevention, call the US National Suicide Prevention Lifeline: 800.273.8255