Please continue to wear your mask properly while in the lodge, outside when social distancing isn't possible, and especially on Team Transportation. We've been seeing a rise in Covid cases throughout our team and we need to do everything we can to keep one another safe and keep our season going! 
KN95 masks have proven to be more effective in preventing the spread of Covid, we have a limited number available in Human Resources and at Cooper Spur.  Please feel free to swing by to pick up a KN95 mask – we've ordered more and will update the team when more are available.  

Last Weekend to Get F&B Discount Without an Active Pass:
This weekend will be the last weekend for team members to receive a discount in F&B without an active Employee Pass. If you have not received your pass, please contact Human Resources at jobs@skihood.com or Live Chat from the Team Site to check-in on your onboarding status. You may need to finish required tasks before your pass can be activated.
More information on what's required to get your pass can be found in our last newsletter, see "Where's my Pass?": 
What To Do To Make Sure You Get Your W-2!
2021 W-2's will be available soon! Make sure your personal information is up-to-date in Dayforce to ensure proper delivery of your year-end tax forms. 
Save a tree & opt-in to receive your year-end forms electronically!
More information on how to do this below: 
Make sure your Legal Name is entered into Dayforce:
Your Year-End Tax Forms will need to display your LEGAL name, double-check your Personal Information in Dayforce to avoid any mishaps when filing your taxes: 
Make sure your address is up-to-date:
Year-End Tax Forms will not be available for on-site pickup, they will be mailed directly to the address on file in Dayforce, please ensure the address we have for you is up to date:
More information on where to find your W-2's linked below: 
Step One:
On a laptop or desktop: www.dayforcehcm.com 
Go to Profile and settings
Step Two:
Scroll Down.
Click on the Blue Pencil next to
"Year End Form Delivery"
(See picture)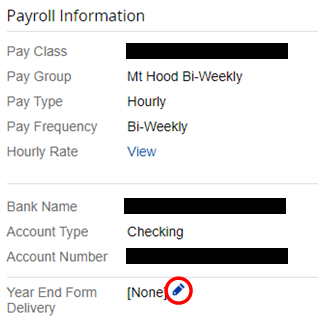 Step Three:
Check the box next to W-2 and Click Approve (see picture below)

Step Four:
Done! You will now only receive your W-2 electronically and save postage and paper!
Save the Date - Team Appreciation Event!
Thanks for all the efforts to get through the holidays!
With Covid cases on a steep rise this past week, we are doing our January Team Appreciation Event virtually. We know this is a bummer and we really want to be in person. We also want to be responsible and not put our entire team in a room together – we are aiming to be smart.
Tuesday, Jan. 18th
6pm – 7:15pm
Team Appreciation & Virtual Giveaways!
Since we are unable to provide food at a virtual event, stay tuned for an upcoming announcement on special food discounts.
GROUP ACUPUNCTURE SESSIONS CANCELLED
We have decided to cancel the following Group Acupuncture sessions dude to the rapid rise in Covid cases amongst our team.
Group Acupuncture is Back!
Free to our Team, Masks and social distancing required
1/10 Monday 11am-1:00pm

Alp Loft

1/14 Friday 5:00pm-7:00pm

Alp Loft

1/17 Monday 12:00pm-2:00pm Alp Loft
1/21 Friday 5:00pm-7:00pm

Vertical North

1/24 Monday 11:00am-1:00pm

Alp Loft

1/31 Monday 12:00pm-2:00pm

Alp Loft