Thank you to the entire team and to those who attended the Virtual Team Appreciation event Tuesday night. Your hard work this season has not gone unnoticed, we greatly appreciate every hour you put into enriching lives & making our winters work! 
Congrats to Our Raffle Winners!
Aaron Sherr
Andrew Cornwall
Andrew Goetting
Anna Holgate
Bradley Van Natta
Brian Feucht
Catharine Dent
Charleah Lillig
Charles Rogers
Chayse Lundgren
Claire Dugger
Daniel Bell
David Miller
David Silberstein
Dean Phillips
Duncan Davis
Isaiah Gerhardt
Itzel Ortega
Josefina Valenzuela
Kaelyn Rank
Karie Oakes
Kevin Castro
Kyle Donahue
Malakai Echeverria
Marc Cormier
Melissa Vaughn
Michael Fisher
Nate Gourley
Nick Joyce
Nolan Miler
Paul Sunderland
Pinki Hamilton
Robert Baumgarten
Rowdy Pizer
Sean Dahlberg
Shane Rubio
Steve Johnson
Talan Morrison
Tim Healy
Tony Anthony
Val Stepanchuk
Zach Banks
Please continue to wear your mask properly while in the lodge, outside when social distancing isn't possible, and especially on Team Transportation. We've been seeing a rise in Covid cases throughout our team and we need to do everything we can to keep one another safe and keep our season going! 
KN95 masks have proven to be more effective in preventing the spread of Covid, we have a limited number available in Human Resources and at Cooper Spur.  Please feel free to swing by to pick up a KN95 mask – we've ordered more and will update the team when more are available.  

Order your 4 free Covid tests today! Limited to four per household orders are expected to ship in late January.
Follow the link below to order: 
2021 W-2's are available in Dayforce & have been mailed to the address on file.
More information on where to find your W-2's linked below: 
This is affordable, shared,  BUNK STYLE housing available to qualifying and exemplary team members. If you are interested AND meet the qualifications, please fill out the intake form. Qualifications and Intake form can be found at the link below: 
The T4T list is you and your team's insider resource to housing within the Mt Hood area. The T4T list includes pre-approved landlords who have applied to list their rentals to Mt Hood Meadows and Cooper Spur employees. These landlords had to apply and have their rental reviewed by the program administrator to get on this list. 
Product Spotlight: Employee Assistance Program
Financial & Legal Services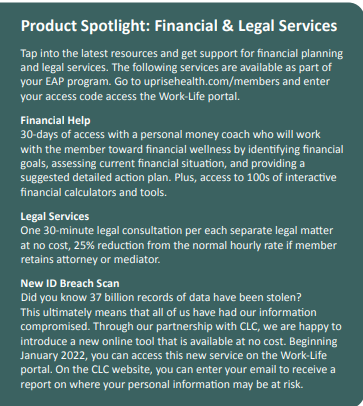 Saving for retirement is something we all need to think about. It can be a challenge saving today for tomorrow's enjoyment. It is never too late to make progress and never too early to get started. Hitting key financial milestones at early ages can get you in better financial shape for retirement. According to a Transamerica Retirement Survey, 44% of retirees cite declining health that requires long-term care as their
greatest fear. 36% say losing their independence and 32% say outliving their savings and investments are retirement fears.