Managing stress can look different from individual to individual. Reliant Behavioral Health (a.k.a Employee Assistance Program) offers some useful tips when it comes to managing your stress throughout the pandemic and ever-changing work environment.
Follow the link below for more information on how to utilize and log-in to our Employee Assistance Program.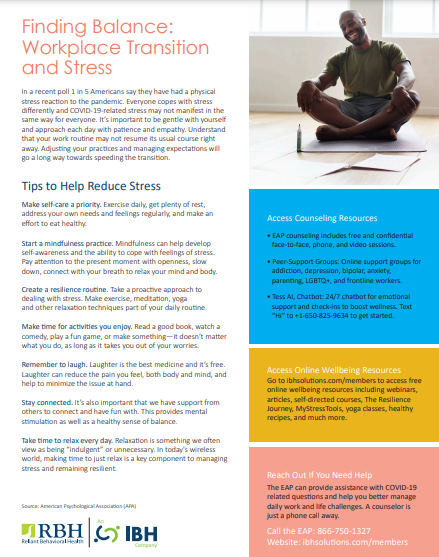 Columbia Employee Store Invite
Mt. Hood Meadows and Cooper Spur team members have been invited to the Columbia Employee Store!
Valid 3.26.21 through 4.18.21.
Follow the links below for full information and instructions: 
Summer Job Oppurtunities:
Looking for a summer seasonal job? Click the link to apply to local businesses hiring now. This list is updated on a weekly basis so be sure to check back in for more opportunities.
Perpetuate your stoke in the summer! Meadows is hiring a few summer seasonal positions to join our small Summer Operations team.  To apply, log into Dayforce 'Careers' and check out our summer positions.
Current Job Postings
-Cooper Spur Mtn. Resort Crooked Tree Tavern & Grill
–Sous Chef (year-round opportunity)
–Line Cook
-Mt Hood Meadows
–Director of Finance
–Facilities Electrician
–Janitorial 
–Lift Attendant
–CDL Bus Driver in Training
We are  updating the Hood River employee bus schedule for the remainder of the season. As we are approaching the later part of the season very quickly we have been monitoring the daily ridership. At this time we feel that we are at a place where reducing our bus routes to 1 bus Monday- Friday is the responsible thing to do.
Beginning this Monday 3/29/2021 there will be 1 bus arriving and departing from the Hood River side. This will be the 7:00AM arrival and the 5:15PM departure.
If you normally ride the 6:30AM or 4:15PM please make sure to reserve a seat on the 7:00AM or the 5:15PM.
 We will continue to offer both busses on Saturday and Sunday at  6:30AM, 7:00AM arriving and 4:15PM, 5:15PM departing. 
Thank you,
Mt. Hood Meadows Transportation Team