Need a Mask? HR Has You Covered
We still have masks to give out in HR! Swing by the office during our office hours to grab one! 

– Blackstrap MHM Neck Tubes
– Blackstrap Ear Loop MHM Masks
– Helly Hanson Ear Loop Masks
Recruiting Corner Feature: Summer and beyond at Cooper Spur!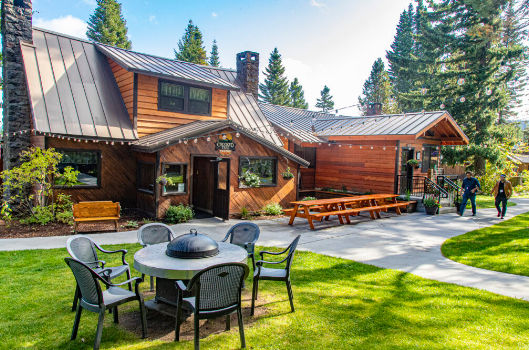 Looking for a local summer seasonal gig? Check out our local employer resource page seeking Meadows/Cooper Spur team members and apply today!
Cooper Spur Mtn. Resort is hiring for the following positions at the Crooked Tree Tavern & Grill. Local and organic meals in a cozy rustic atmosphere! Be a part of a small team on the North Face of Mt Hood. Feel free to contact Jillianne if you want to find out more about working there 
-Sous Chef (year-round, benefits) 
-Line Cook (summer seasonal)
-Housekeepers
Apply through Careers in Dayforce! 
Tempo Flow Yoga - Free Classes in April

Flow Studio Hood River is offering Mt Hood Meadows and Cooper Spur free access to their new format: Tempo Flow!
The first week of April we all have access to attend these classes for FREE.
What is Tempo Flow?: An outdoor accessible movement class that begins with a yoga warm-up, mobility training, and builds to tempo-based conditioning with fun, inspiring music in the middle, and then a yoga cooldown. These classes will allow you to find just the right intensity for you. Intelligent, joyful, and super effective movement and training blended with just enough yoga to help you find clarity and presence in your day. These classes will not feature a bunch of jumping and bouncing: low impact but high intensity!
Access the joy of movement through music, friendship, community, and mindfulness!
These classes will be outdoors on the deck at Ferment Brewing Company:
MWF 9:45 am
Sat 8:30 am
(55 min classes)
Lia Davidson (MW), Katie Middel (Sat) and Susan Sorensen (Fri) will be teaching this fun and inspiring new format.
Here is how you pre-register (space is limited, so reserve your spot soon):
Sign up with Karmasoft at: https://flowyoga.karmasoftonline.com/member/accounts/sign_up
Go to "Store" and click "TFlow on the Ferment Deck"
Enter Coupon Code: TFLOWINTRO
p.s. Trying something new is always better with a friend, so please feel free to share this Coupon Code to bring a friend with you.
Gratefully and
in Service & Leadership,
Stephanie Adams Ruff, ERYT 500
Community Leader, Flow Hood River
www.flowhoodriver.com
Founder, SAYF
www.sayfyoga.com
(She/Her)
We're surrounded by noise and distractions each day, and we often surround ourselves with noise to escape our own "inner noise". Even though we may not know it, but humans are often overwhelmed by all of the noise that surrounds us – both inside and out. 
Mindful.org has a great article on "The Power of Pause", and offers great tips on finding moments of silence throughout our seemingly loud days. 
Turn off your phone/music/news
Try driving in silence! Toss your phone in the backseat and enjoy the quiet
Follow this link to read the entire article and listen to related podcasts: