Team Newsletter – 4.13.22
Cooper Spur is Cooking Up Some Easter Brunch this Sunday!
We would like to extend the 30% team discount to each employee, plus one guest, for this event. They are welcome to invite more guests at the posted price. Due to limited seating, reservations are required. Full menu and info below: 
No sign-ups required. Walk-in, first come, first serve.
For scheduled days in the Vertical North 
Enter through the stairs in the old Snowblaster room, past Fresh Tracks. 
4/18 Monday 11:00-1:00 Vertical North
Mountain Exchange Updates
Our PNSAA Mtn. Exchange agreements expire this Friday, April 15th
We have reached out to all participating resorts still in operation to gauge interest in continuing exchange privileges for our team. 
At this time the following resorts / gyms have confirmed their participation: 
– Timberline
– Stevens Pass
– White Pass
– Brimstone Boulders
– Movement (previously Planet Granite)
– FLOW Yoga
The updated SPRING Mtn. Exchange form will be posted on the team site Thursday morning, April 14th. Please note that the form will be inaccessible while we make this change. We will notify you via Dayforce when the updated form is live. If you would like to visit any of the current resorts on our list, Friday is the last day to do so and you will need to submit your request today, April 13th. 
End of Season Team Appreciation Celebration
Sunday, May 8th
Yes, it's Mother's Day, bring her! Families welcome. Family doesn't shred? Bring a plus 1! 
Lifts, food, drinks, raffle prizes, transportation. 
More info coming soon! 
Who gets a spring shirt?
Active Full-Time Employees in Outdoor Jobs and Specified Indoor Departments. Your Department Manager will inform you if you get a Spring Shirt as part of your uniform.
New Spring Shirts available for sale for $10 for part-time team members or folks who want an extra one.
What are the Guidelines for Wearing a Spring Shirt as part of your Uniform?
• Your spring shirt is a uniform item
• You must wear a nametag!
• NO freeriding in your spring shirt
• NO consuming alcohol in your spring shirt
• NO smoking or using tobacco products in your spring shirt
• Treat it just like your uniform until the end of the season
Not sure you get a Spring Shirt?
-Check with your Department Manager!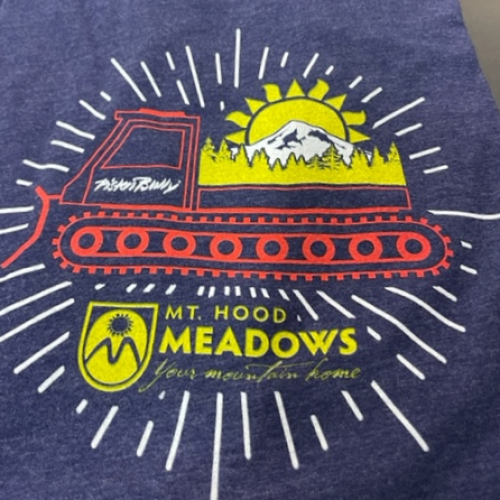 21/22 Spring Shirts - $10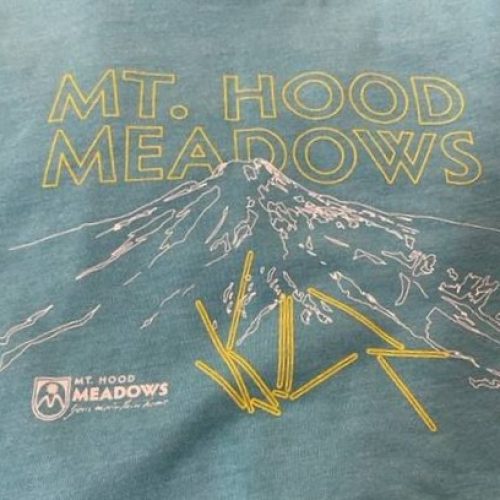 Kids Summer Camp Counselor
As the Children's Summer Camp counselor, you will engage in environmental based activities, outdoor education and leading groups ages 6-16 at Mt. Hood Meadows and offsite locations. The ideal candidate for this position is passionate about outdoor education and enjoys leading children in environmental based activities.
Continue enriching lives in the Summer as a Hiking Guide and Host. This position facilitates guided hiking tours while sharing the beauty of the Mt. Hood Wilderness Area natural and cultural history; engaging in conversations and discussions with guests throughout the hikes and greeting guests and answering questions.
Janitorial Supervisor - Year Round
As the Janitorial Supervisor, you will hire, train, and lead the team in the routine cleanliness and general upkeep of the resort lodge and base areas working with the Facilities Department to ensure the buildings and grounds are presented in a safe, clean, professional, sustainable, and welcoming condition for guests and team members.
Cooper Spur Mountain Resort offers a rustic retreat with modern comforts to its guests and an excellent work environment for its team. Come join the Cooper Spur Housekeeping team dedicated to offering a superb guest experience from the moment they arrive on the peaceful North Face of Mt Hood.
Summer Job Board & Summer Job fair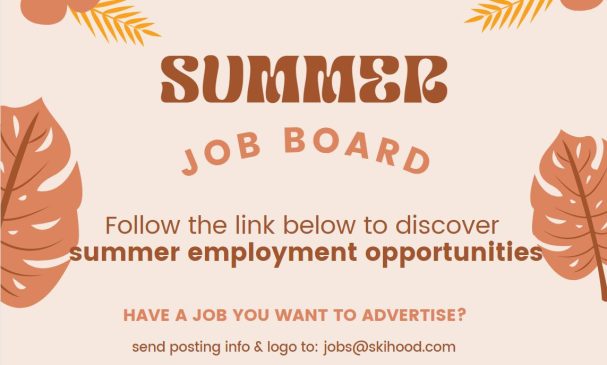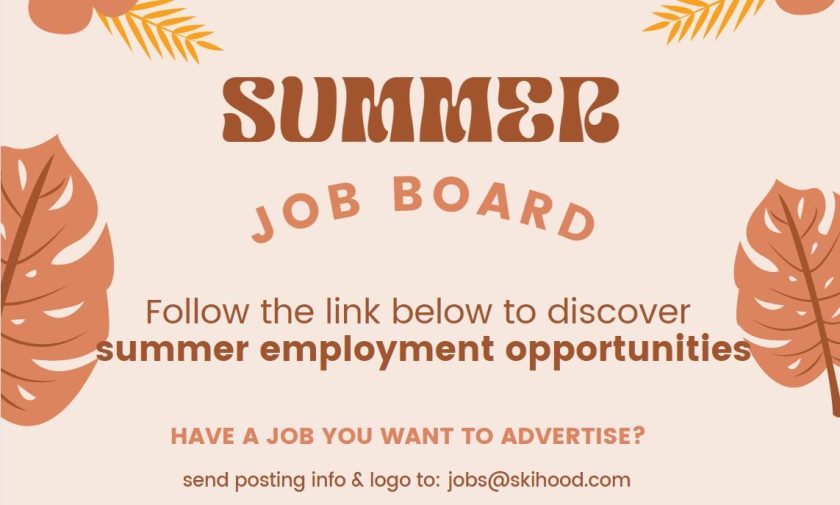 It's not too early to be thinking about summer employment. We're here to help! We've compiled a list of local (and not local) summer seasonal job opportunities for you to explore. Follow the link below to check out our Summer Job Board!
Be sure to visit our Summer Job Fair on April 30th from 12pm – 4pm during reVEGETATE.
We'll be able to offer Daycare services to our team members through the summer! 
The spring schedule detailed below, is subject to change dependent on staffing levels and reservations.
Days:
7 days/week through April 24th
Starting April 25th Daycare will open Thursday – Sunday through May 7th
May 9th – May 31st Daycare will open Monday – Thursday
Daycare will not be open Sunday, May 8th for the end-of-season event. 
Hours:
7:30 am – 4:30 pm through May 7th
7:00 am – 5:00 pm through the end of May
Cost:
$25 for the first child, $15 for each additional sibling
Daycare is actively looking for staff to support their operations through spring and potentially into summer. If you love kids, and aren't afraid of diapers or getting messy – apply through Dayforce today! All daycare staff is required to submit to the Central Background Registry and go through paid training to work in the Meadows, State Certified Daycare Center.