The Big Float - Free Tickets
The final Big Float will take place on Saturday, July 17. We've had a long relationship with the Human Access Project, and have received complimentary registrations. There are a limited number, so if you are interested in having a great day floating on the Willamette River, listening to some great entertainment, and celebrating the efforts made by the Human Access Project, simply email: dave.tragethon@skihood.com
With the number of registrations you want. I'll send you electronic codes that you will then use to register.
Note:
Your codes MUST be used to register online by 7/3 or they will expire. 
All participants must provide their own lifejacket (available through registration for $10) and a floatation device (available everywhere!)
Here's information on the Big Float – enjoy!
THE BIG FLOAT X  
The Last Blast!
Sun, July 10th, 2022 11:00 am (gates open) – 6:30 pm 
This is both our 10-year anniversary and last Big Float. Join us for the sendoff and celebrate!
10 YEARS OF RIVERLUTION!  
Live music to be announced soon. 
First Innertube Parade 1:00 pm, Second 2:30 pm
Tom McCall Bowl – Waterfront Park
(SW Columbia & Naito)
Heidi Logosz Awarded FWSA Jordan-Reily Award for Public Affairs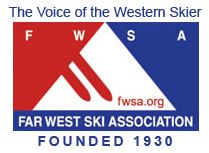 The Far West Ski Association conducted its 89th Annual Convention and Meeting June 9-12, 2022 at the Holiday Inn Portland – Columbia Riverfront in Portland, Oregon, hosted by the Northwest Ski Club Council. The Far West Ski Association, founded in 1930, is a volunteer, non-profit organization representing 150 affiliated ski clubs located throughout ten regional councils in the states of Alaska, Arizona, California, Colorado, Hawaii, Idaho, Nevada, Oregon, South Dakota, Utah, Washington, and Wyoming. The Association conducts active programs in public affairs, skier safety, ski heritage, athletics, racing, communications, travel, council development, ski industry, and community outreach.
Annual recognition awards were presented to members of the ski industry, media, volunteers, racing leagues, councils, and ski clubs.
The FWSA Jordan-Reily Award for Outstanding Contribution to Public Affairs was given to Heidi Logosz,
Sustainability Manager for Mt Hood Meadows.
Full press release linked below:
Schedules for the holiday weekend: 
Lift Schedule: 
Friday – 10am – 5pm
Saturday – 10am – 7pm
Sunday – 10am – 7pm
Monday – 10am – 3pm
Paradise Grill Schedule: 
Friday – 9:30am – 5pm
Saturday – 9:30am – 7pm
Sunday – 9:30am – 7pm
Monday – 9:30am – 3pm
Saturday Event Schedule – Polynesian Culinary Tour
Registration – online
Time – 2pm – 5pm
Point Person – Laura Grimsley/Chris Huggett
Information –  Food tour of Polynesian/island foods.  Music, Live entertainment from Pa'akai Productions
Event Location – 2nd Floor Sahale
Cost – $49 adults / $34 12 & under
RV Parking
Check-in Time – 11 am,
Check out Time – 4 pm
Check-in location – POS/Gift Shop

must check-in before parking in RV spaces

Late Check-in Point Person – DPS
Reserved Spots – 3 Fri, 4 Sat, 1 Sun
Cost – $20 Walk-in/Reservation

July Webinar: Working it Out in the Workplace
Most of us spend more than half of our waking hours at work. And a huge part of our satisfaction and productivity depends on the strength of our interpersonal relationships. Both for your own personal success and the success of the organization, it's essential to create and maintain positive relationships. During this webinar, we'll explore common challenges and provide you with steps for navigating them.
Follow the link below to access the EAP portal, sign in with access code: meadows. Then select "Webinars", you will need to create a personal account to access this webinar. 
Resort Operations Org Structure
The email below was sent from Jeremy Riss, VP of Resort Services on 5/31/22
Hi Team,
As you know with Chris Kastner out the entire season many team members picked up extra responsibilities to help ensure all departments and team members had the support they needed. Rentals started reporting to Lisa Cordie, Nordic started reporting to Tyler Barnes and Race started reporting to Mel Toney. Overall we felt these reporting changes were effective and our plan is to keep these changes in place moving forward. Some other org structure changes were made both in Guest Services and Meadows Learning Center to support Lisa and Tyler taking on responsibility in other departments.
With that in mind, I am excited to announce that Lisa and Tyler will be joining the Director team effective June 4th, 2022.
Lisa Cordie will be promoted from Resort Services Manager to Director of Guest Services. In this role, she will provide leadership to Guest Services, Retail, Rental, and Daycare. Lisa started at Mt. Hood Meadows in the 1999/2000 season as the Daycare Supervisor. In her 23 seasons at Meadows Lisa has received multiple promotions and contributed to success in many areas of the company such as Daycare, Meadows Learning Center, and Guest Services. In addition to her many accomplishments in helping team members and departments grow and become even more successful, Lisa is also the only two-time winner of the President's award in our company's history, winning the award in both 2007 and 2015.
Tyler Barnes will be promoted from Meadows Learning Center Operations Manager to Director of Meadows Learning Center. In this role, he will provide leadership to the Meadows Learning Center and Nordic Center. Tyler started at Meadows in the 1993/1994 season working both as a Ski Instructor and Bartender. Tyler was promoted to Bar Manager and worked two seasons in that role while teaching skiing part-time. In the late 90s he started his own business doing a variety of work in architecture, web design, event promotions, and writing mountain bike guide books while continuing to teach skiing part-time at Meadows. Tyler came back to Meadows full-time in 2017 as the Training Manager for the Meadows Learning Center from which he was promoted to his current position.
While in many cases we will post open positions for application, in this instance we had two team members doing these jobs already and we do not intend to backfill their previous positions.
Both Lisa and Tyler are positive and solution-focused leaders who will add a lot of value to the direction of the company in their new roles. Please help me in congratulating them on these well-earned promotions.