Team Newsletter – 7.22.22
Team Discount on Kid's Summer Camps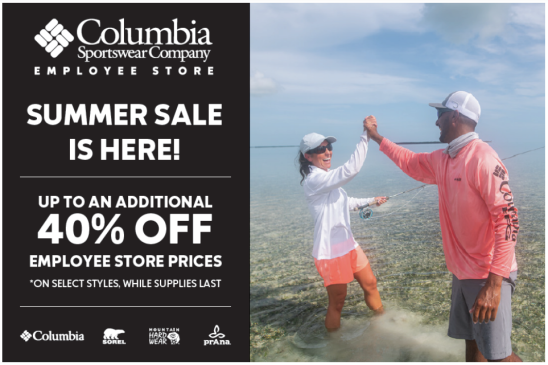 Meadows & Cooper Spur Team Members have access to the Portland Columbia Employee Store!
What to bring: 
– The attached invitation below
– Photo ID
– Proof of affiliation: paystub, employee pass, business card. 

Valid Dates:
7/22/22 – 8/14/22
Valid for you and up to 4 guests. 
Year-Round Access
Military: Every Day
Seniors (65+): Tuesdays
Real Estate Professionals: Wednesdays
Location and Hours: 
14100 NW Science Park Dr
Portland, OR 97229
MON – FRI: 10A – 8P
SAT – SUN: 9A – 8P
Hi Team,
In response to some feedback from the team on the cost of food even with the 50% discount during the summer and we know many other costs are going up as well. We are making an adjustment based on the feedback and the food discount is now 70% for all active team members during the summer instead of 50%.
Remember the discount is only off food not alcohol and the maximum about of full price food that can be discounted is $35/day.
Meadows is hiring for two year-round positions, and is currently accepting applicants for Park Grooming Operators for the winter season! If you are interested or have someone in mind that would be a good fit for any of the positions below, apply today! 
Upcoming Job Opportunities Posting Soon:
Housing Programs Supervisor 
Uniform & Team Services Coordinator
Chief Financial Officer - Year-Round
The ideal candidate for this position requires keen attention to financial detail, organizational and time management skills, and an entrepreneurial drive to develop change initiatives and see them through to completion.
Have a Candidate in mind? Share this link:
Have you Worked here before? Apply below:
Human Resources Generalist - Year-Round
We are seeking an experienced Human Resources Generalist to join our dynamic and creative team. This is a year-round position in a fun, fast-paced, and collaborative work environment where we welcome all to their "Mountain Home".
Have you Worked here before? Apply below:
Have someone in mind? Share this link:
Freestyle Terrain Groomer - Seasonal
Must be at least 19 years of age or older
Ability to be insured to operate company vehicles
Valid driver's license
Strong attention to detail; safety focused
Have you Worked here before? Apply below:
One full season of experience operating a snow cat
Ability to learn and execute safe operation of equipment
Ability to make critical decisions without direct supervision
Have a Candidate in mind? Share this link:

Please be sure to read all information below, as this summer program will be administered differently than our winter exchange program.
You MUST request a letter prior to visiting Ski Bowl, no drop-ins or day of requests will be honored. 
You will receive at least 2 email notifications, one confirming your request and one either approving or denying your request. 
You will not pick up a physical letter prior to visiting Ski Bowl. We will email your letter to you, and you will redeem your ticket at Ski Bowl Guest services, day of.

You will need to present a valid ID or your employee pass to redeem your ticket.

Ski Bowl will be provided a daily list of Meadows team members that will be utilizing the exchange. 
You will be able to request a letter no sooner than 2 days in advance, and no later than 3 weeks in advance. 
You must be an active team member with Meadows or Cooper Spur to utilize the exchange. Exchange privileges are not available for dependents. 
Available Activities @ Ski Bowl
For our summer exchange Meadows Team Members have been offered Ski Bowls' Action Pass which includes the following:
(5) Scans on our West side lift for the following:
Alpine slide, Disc golf, or Scenic Chair
You can mix and match or use all for one item.
Unlimited access to the following:
Rock wall
Bungee trampoline
Aqua rollers
Tube hill
Amaze'n maze
Batting cages
Mini golf
Premium items are discounted if team members want to add on:
Bungee Jump – $15
Zipline – $15
Bridge treetop tour – $15
Sprint Karts- $8
Indy Karts: $10
Aerials only operate Friday through Sunday.
Activity information and hours of operations can be found at the link below: