Second Submissions for Vaccine Bonus
Folks who have submitted their 1st record of vaccine prior to the end of January have until March 12th to submit their record of their second shot.
Tuesday, March 8th, 2022
@ 6 pm
Zoom link below:
End of Nights Appreciation Event
Thursday, March 10th, 2022
We're aiming to host an on-site event, with after-hours lift access, food & drinks, & raffle prizes!
Come celebrate our night crews and Cooper Spur Ski Area team! 
Stay tuned for more information, hope to see you there!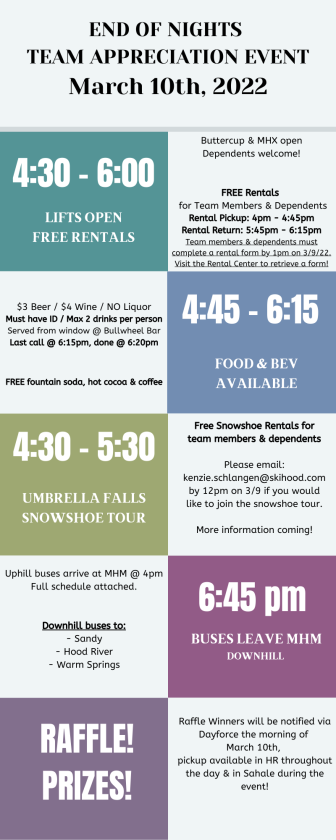 NSAA Employee Engagement Survey

The National Ski Areas Association has released the second annual issue of the Employee Engagement and Inclusion Survey. The survey aims to understand the degree to which ski area employees feel valued and engaged. Participation is strictly anonymous, and you will not be asked to identify yourself. The survey is
administered by a third party to ensure your privacy.
Please help Meadows leadership gain a better perspective on our team members experiences working in the ski industry.
The survey closes March 8th, 2022. 
La Asociación Nacional de Áreas de Esquí ha publicado lavsegunda edición anual de la Encuesta de Inclusión y Compromiso de los Empleados. La encuesta tiene como objetivo comprender el grado en que los empleados del área de esquí se sienten valorados y comprometidos. La participación es estrictamente anónima y no se le pedirá que se identifique. La encuesta es administrada por un
tercero para garantizar su privacidad.
Ayude a nuestro liderazgo a obtener una mejor perspectiva de las experiencias de los miembros de nuestro equipo que
trabajan en la industria del esquí. La encuesta cierra el 8 de marzo de 2022. 
March Webinar: Riding the Waves of Change
Featured Webinar from our Employee Assistance provider, Uprise Health, (formerly RBH):
Riding the Waves of Change
Change in life is inevitable. While we can't always control what happens, we can control how we choose to respond to it. What we tell ourselves about change will have a large impact on our feelings and behaviors. During this webinar, we'll demonstrate techniques for successfully navigating change and using it as an opportunity for learning and growth. 
To watch the webinar, sign in to our EAP using the access code: meadows.
Follow the link below after signing in:
The Ideas Lab is always open!
Management responses are published bi-weekly.
Ideas Lab submissions between 2/20/22 and 3/5/22 will be published on 3/9/22. 
Tell us your ideas at the link below: 
Team Housing is now open to all commitment levels (previously only available for Full-Time team members).
This is affordable, shared, bunk-style housing available to qualifying team members.
Visit our Housing Resources page for the full list of qualifications & the Housing Intake Form. 
New Summer Opportunity @ Meadows
Summer Camp Coordinator
Qualifications & Experience
–  Must be 19 years of age or older
– Demonstrated ability to lead a team of camp counselors and camp attendees
– Basic outdoor navigation and wilderness survival skills
– Ability to work and perform the camp activities outdoors in all environments and weather conditions
– Must be able to work weekdays in July and August
– Employment in this position is subject to a satisfactory background check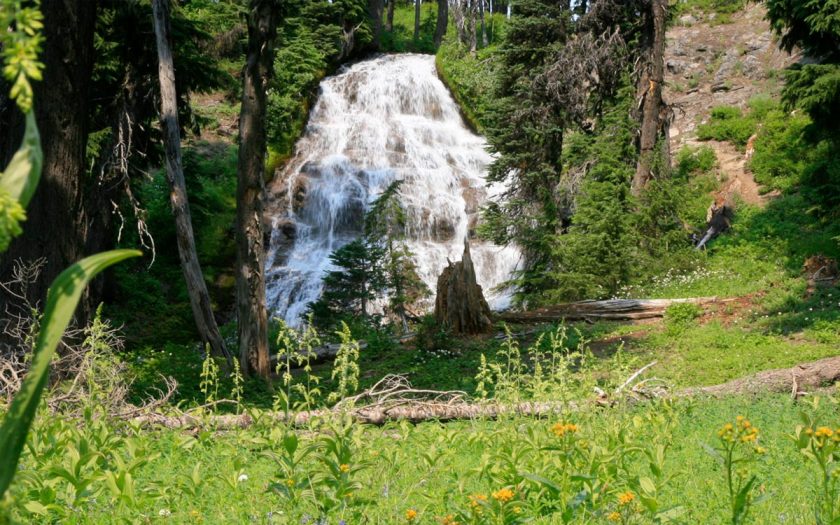 MHM Team Members Spotlight in Media!
Featured on the Explore Oregon Podcast
Way to go Tyler!
What a great way to talk to parents about getting kids learning how to ski or snowboard! 
Listen to Tylers podcast feature below:
Thanks, Karen for being such a great ambassador of happiness for our guests, our team, and Mt. Hood. You truly are an inspiration!
Check out Karens feature belows:
A Message from Your Covid Response Team
Hello Team!
We know you may have some questions regarding the different messages between the Center for Disease Control's (CDC) new guidance on masks and Oregon Health Authority's (OHA) Mask Mandate. We wanted to break all of that down for you so you know what to expect in the coming weeks. The following information is based on what we know today and could change at any time.
A couple important things to note: The CDC provides guidance and local Health Authorities/Governments create mandates, laws, etc. based on that guidance. There are times when the CDC might act before the State does and vice versa. We are currently in one of those times as the CDC has relaxed masking guidelines but we are in a state that has a Mask Mandate in place. The Oregon Occupational Health and Safety Administration (OSHA) follows OHA's rules when it comes to masks so, when you're at work, you'll need to continue wearing a mask for now.
OHA's Mask Mandate in a nutshell – OHA's Mask Mandate currently requires that people wear masks at all times when indoors, at work or in public spaces unless they are actively eating or drinking (or in a private office with no other occupants and doors closed). OHA has announced the plan to end the Mask Mandate on or before March 31st with a current plan for moving to "Masks Optional" on March 12th.


CDC's guidance in a nutshell – The CDC shared new guidance on Friday recommending that local health authorities develop plans for mask use based on hospital capacity. The CDC has created "COVID 19 Community Levels" of Low, Medium and High. The CDC's masking guidance is now based on what COVID 19 Community Level your county is in. We may start to see County Health Departments providing mask guidance specific to their area soon rather than Statewide Mandates. You can find all the details here: https://www.cdc.gov/coronavirus/2019-ncov/your-health/covid-by-county.html
Regardless of location, masks will continue to be required on public transportation, airplanes and health care settings at this time.
Don't throw away your masks! There's a good chance they will be needed again.
–          This is a reprieve but as we've learned, things can change at any moment with new variants or increased cases putting a strain on local hospitals.
Many people will still need to wear masks indoors or may choose to do so for various reasons.
Some of which may be:
Comfort level and personal safety
They may have been exposed to COVID (masks will still need to worn indoors for 10 days after and exposure)
They may have recently recovered from COVID (masks will still need to be worn indoors for 5 days after recovering from COVID)
Patrol, DPS & Mountain Safety are required to wear masks indoors by Oregon OSHA
They may be immunocompromised/high risk or have family that is
They may have young children or elderly family members at home
They may be growing an epic mustache while waiting for the perfect day to unveil their masterpiece 
RESPECT OTHER'S CHOICES. If someone wears a mask after masks become optional, that's perfectly fine. Don't ask them to justify their choice to you as it may be personal/medical. Don't start rumors or make assumptions that someone is wearing a mask because they had COVID or had an exposure.
Remember that regardless of mask mandates being relaxed, wearing masks (ideally a N95 or KN95) and getting vaccinated are still our best lines of defense against a serious COVID infection.
– Your Covid Response Team