Second Submissions for Vaccine Bonus
Folks who have submitted their 1st record of vaccine prior to the end of January have until March 12th to submit their record of their second shot.
Vertical Unavailable Through Remainder of Season
Effective 2/25/22 the Vertical is no longer available for team member breaks - this will remain in effect through the end of the 21/22 season.
Planet Granite is now "Movement"
Planet Granite has rebranded and is now called: Movement. Future Mtn. Exchnage letters will display both business titles.
End of Nights Appreciation Event
Thursday, March 10th, 2022
We're hosting an on-site event, with after-hours lift access, food & drinks, & raffle prizes!
Come celebrate our night crews and Cooper Spur Ski Area team! 
Group Acupuncture offered in the Alp Loft from 11am – 1pm, first come first serve

Chiropractic offered in the White River Room from 1pm – 5pm, first come first serve.

Thank you again to everyone who submitted ideas!
Ideas submitted between 2/20 and 3/5 have been reviewed and posted. Filter by 2/20/22 Start Date to view the most recent submissions
Follow the link below to view your teammates' submissions & management's responses: 
The Ideas Lab is always open!
Management responses are published bi-weekly.
Ideas Lab submissions between 3/6 and 3/19  will be published on 3/23/22. 
Tell us your ideas at the link below: 
Additional Covid Tests Available
Seasonal Layoffs & Keeping Your Pass Active
We're nearing the end of our season, which means some of us may end up being laid off due to a lack of work availability. 

We want to communicate how seasonal layoffs affect the status of your Employee Pass privileges.
If you are laid off or have fulfilled your commitment and you are eligible for rehire, your lift access, along with your dependents will remain active through the end of our season, if you have unused buddy passes, you will keep these as well. 

You will not keep your discount on food or retail. 

If you are laid off or have fulfilled your commitment and you are a conditional rehire or ineligible for rehire, your lift access, dependent passes, discounts, and buddy passes will be deactivated on your last day of work.
If you have any questions regarding the current status of your Employee or Dependent passes – please email jobs@skihood.com. 

Thanks for a great season so far, we hope the rest of it is just as wonderful! 
Group Acupuncture is back - For real this time!
No sign-ups required. Walk-in, first come, first serve.
For scheduled days in the Alp Loft
Enter through the stairs near the elevator.
For scheduled days in the Vertical North 
Enter through the stairs in the old Snowblaster room, past Fresh Tracks. 
3/10 Thursday 11-1 Alp Loft
3/18 Friday 10:30-12:30 Vertical North
3/21 Monday 1:00-3:00 Alp Loft
3/30 Wednesday 11-1:00 Vertical North
4/4 Monday 11:00-1:00 Alp Loft
4/13 Wednesday 11:00-1:00 Alp Loft
New Summer Opportunity @ Meadows
Summer Camp Coordinator
Qualifications & Experience
–  Must be 19 years of age or older
– Demonstrated ability to lead a team of camp counselors and camp attendees
– Basic outdoor navigation and wilderness survival skills
– Ability to work and perform the camp activities outdoors in all environments and weather conditions
– Must be able to work weekdays in July and August
– Employment in this position is subject to a satisfactory background check
Summer Opportunity @ Cooper Spur 

Housekeeper – Cooper Spur
Qualifications
– 14 years of age or older
– Must be able to commit to work weekends and holidays
– Previous housekeeping preferred
– Must be comfortable with the changing dynamics of a seasonal business

Unfortunately, we will not be able to host an on-site job fair for summer employers this year – we've invited local employers to come to visit Meadows to recruit, keep an eye on the newsletter for upcoming recruitment days. 

Visit our Summer Jobs page for more seasonal employment resources, new positions posted regularly!
Summer Employer Highlight: pFriem Family Brewers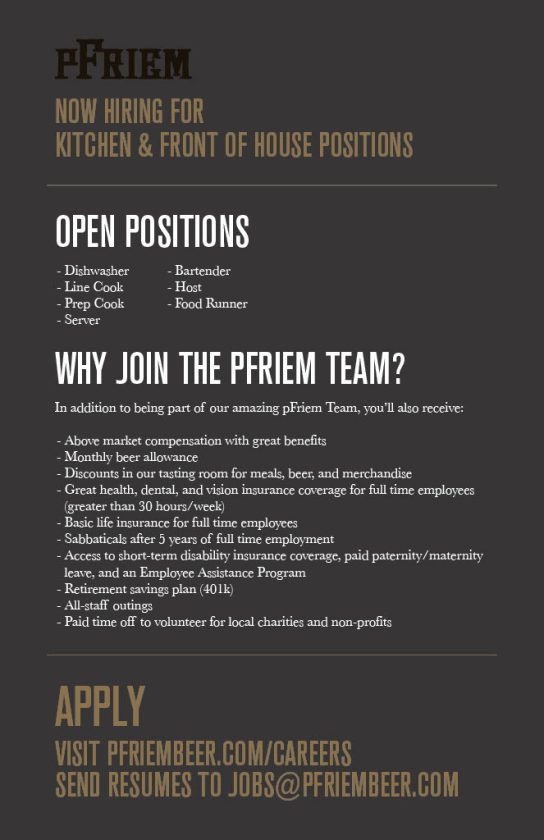 NSAA Employee Engagement Survey

The National Ski Areas Association has released the second annual issue of the Employee Engagement and Inclusion Survey. The survey aims to understand the degree to which ski area employees feel valued and engaged. Participation is strictly anonymous, and you will not be asked to identify yourself. The survey is
administered by a third party to ensure your privacy.
Please help Meadows leadership gain a better perspective on our team members experiences working in the ski industry.
The survey closes March 13th, 2022. 
La Asociación Nacional de Áreas de Esquí ha publicado lavsegunda edición anual de la Encuesta de Inclusión y Compromiso de los Empleados. La encuesta tiene como objetivo comprender el grado en que los empleados del área de esquí se sienten valorados y comprometidos. La participación es estrictamente anónima y no se le pedirá que se identifique. La encuesta es administrada por un
tercero para garantizar su privacidad.
Ayude a nuestro liderazgo a obtener una mejor perspectiva de las experiencias de los miembros de nuestro equipo que
trabajan en la industria del esquí. La encuesta cierra el 13 de marzo de 2022.