Team Newsletter – 3.23.22
Free Ride Clinic for Team Members
Our very own, Alex Pugliese is hosting another freestyle clinic for our team! 
All are welcome, skier & snowboarder friendly, best suited for intermediate level skiers/riders.
Meet at Sahale lesson area, Friday, March 25th.
Our Patrol team is running a Level 1 Avalanche Course on April 5th, 6th, and 7th. 
They have 8 spots available for our team members. MHM/CSMR team members can register for the course for over 50% off of the regular AAI course rate. Questions about the course can be directed to: nick.asher@skihood.com & john.bain@skihood.com
Course description and link to register below: 
Course Description
24 hours of instruction (2 field days + evening meeting + self-paced online learning)  
Discounted Course Fee: $250
The Level 1 provides a solid foundation in avalanche knowledge and skills.  The AAI Backcountry Avalanche Checklist helps to focus the curriculum around a systematic approach to sorting and prioritizing information in the complex environment of decision-making in the backcountry.  We will travel in the backcountry, in and around avalanche terrain.  The classroom portion of the course will be online, with the majority of it self-paced online learning.
This course focuses on the following:
Basic avalanche terminology
Recognizing avalanche terrain
Travel procedures in avalanche terrain
Formation of the mountain snowpack
How weather changes the snowpack
Human factors and how they can influence decision-making
Interpreting the avalanche forecast bulletin
Tour planning
Avalanche transceiver use and rescue skills
Field observations of terrain, snowpack, and weather
Basic use and interpretation of stability tests
Use of the Backcountry Avalanche Checklist in the field to provide a system for prioritizing information, working as a team, and minimizing possible human factor traps
Classroom decision-making scenarios to practice use of the checklist
Next steps
Recommended Reading
Snow Sense, Jill Fredston & Doug Fesler
Staying Alive in Avalanche Terrain, Bruce Tremper
Avalanche Essentials, Bruce Tremper
Additional Information
What is included on a course: 
Professional instruction
Course workbooks
Online/classroom and field instruction
Lift tickets (unless otherwise noted), if the course is operating out of a ski area
What is not included on a course:
Transportation to and from the trailhead
Personal gear
Avalanche rescue gear
Food
Year-Round Opportunity @ Meadows
– Associates Degree or 2 + years experience in a customer service role
– Highly detail-oriented with strong problem-solving skills
– Caterease
– Knowledge of wedding operations and services
– A team player with strong customer service skills
– Ability to work well in a collaborative and team environment
– Strong organizational skills and ability to advance several projects simultaneously
Summer Opportunity @ Cooper Spur
Qualifications
– 14 years of age or older
– Must be able to commit to working weekends and holidays
– Previous housekeeping preferred
– Must be comfortable with the changing dynamics of a seasonal business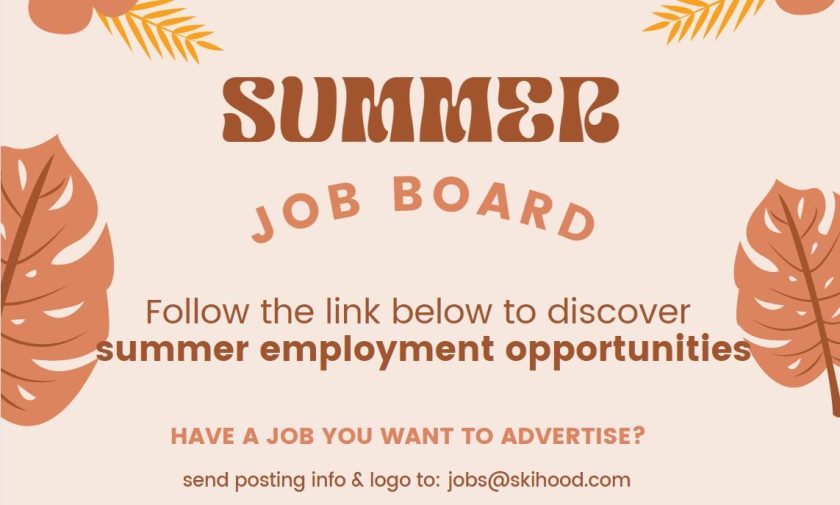 pFriem Recruit Day - Saturday, March 26th!
Our pFriem friends will be joining us at Meadows to recruit for some of their open summer positions!
Saturday, March 26th from 11:30 am – 2:30 pm (lodge location pending).
Check out some of the positions they're hiring for below,
and be sure to chat with pFriem this Saturday!: 
Group Acupuncture Schedule
No sign-ups required. Walk-in, first come, first serve.
For scheduled days in the Alp Loft
Enter through the stairs near the elevator.
For scheduled days in the Vertical North 
Enter through the stairs in the old Snowblaster room, past Fresh Tracks. 
3/30 Wednesday 11-1:00 Vertical North
4/4 Monday 11:00-1:00 Alp Loft
4/13 Wednesday 11:00-1:00 Alp Loft
Mental Health in the Mountains
"My whole life I've been celebrated for what I can do on a pair of skis. But what if our community celebrated people for taking care of their mental health in the same way? I believe that if we start honoring mental health like we honor getting rad in the mountains, lives will be saved."
– Drew Petersen
This week we're featuring an article from Outside Magazine in which professional skier Drew Petersen opens up about his struggles with suicidal thoughts—and explains why talking about it is key to addressing the mental health crisis. Read the full article" We Need to Talk about Mental Health in the Mountains" at the link below: