Team Appreciation Event Details & Expectations
The End of Season Employee Appreciation Event is subject to modification and/or cancellation dependent on COVID-19 risk levels in Hood River County. 
Event check-in is required, upon checking in, team members agree to the "Event Pledge of Personal Responsibility".
Team members must complete event check-in to be entered into the raffle. Raffle winners will be notified via Dayforce messenger, must be present to win.  
COVID Protocol will be strictly enforced, please adhere to our social distancing and mask policies.
No alcohol will be served, please do not bring alcohol to this event.
Team members may bring their dependents or a "plus-one" to the event.
Team Appreciation Event Pledge of Personal Responsibility
I pledge that, when I am present at the Mt. Hood Meadows Team Appreciation Event, I will act responsibly at all times to protect myself and our community in order to minimize the spread of COVID-19.
While on-site, I will:
   Wear a face covering that covers my mouth and nose unless I am outside and more than 6′ from anyone else or actively eating or drinking.  

Maintain a distance of 6' or greater from those who are not my dependent or personal guest. Lifts will be limited to two people per chair; please be respectful of those who want to ride alone.

Comply, without incident, if I am asked pull my face covering up, put my face covering on, step back, create distance, or leave the event.

Comply with ALL COVID Safety directives on posted signs and in communication from the COVID Response Team and Meadows Management Team. 

Practice good personal hygiene, including frequent handwashing for at least 20 seconds.

Properly dispose of all garbage and recyclables in the appropriate dispensers.
I will:
NOT Bring or consume alcohol during the event including in the parking lot, base area, employee buses, lodge, locker/break room areas, on the lifts, and ski area terrain.
NOT Attend the event if I exhibit any of the following symptoms: 

Fever or chills

Cough

Shortness of breath or difficulty breathing

Fatigue

Muscle or body aches

Headache

New loss of taste or smell

Sore throat

Congestion or runny nose

Nausea or vomiting

Diarrhea

NOT Attend the event if I have been in contact with someone who is ill, experiencing possible COVID Symptoms, or has tested positive for COVID-19.


Important:
If you are unable to attend the Team Appreciation Event due to potential COVID exposure or COVID-like symptoms, please call the COVID response Team @503-522-3337 x1919.
If you develop symptoms or test positive for COVID-19 up to three days following the Team Appreciation Event, please call the COVID response Team @503-522-3337 x1919.
Why No Alcohol at the Team Appreciation Event?
We understand there is disappointment in this. During the season small groups of guests or team members gathered with minimal issues; it would be easy for this to become one massive group when it is just the team here in celebration mode. Based on evidence from the last few weeks, there was a clear need for parameters to discourage certain behaviors at a sponsored company event.  Several groups of employees have been observed drinking and standing too close (mostly in the parking lot), and have had to be asked to separate.
It is a bummer for sure because we all want to get together and celebrate the end of the season. The reality is we are not out of the pandemic yet, risk levels in Hood River County and surrounding areas are going in the wrong direction and we need to remain vigilant.
If you are considering going offsite to a SnoPark or other forest areas, please be mindful of Meadows' reputation with the U.S. Forest Service and that we are all subject to those regulations when outside of the MHM permit area.
Your Exec Team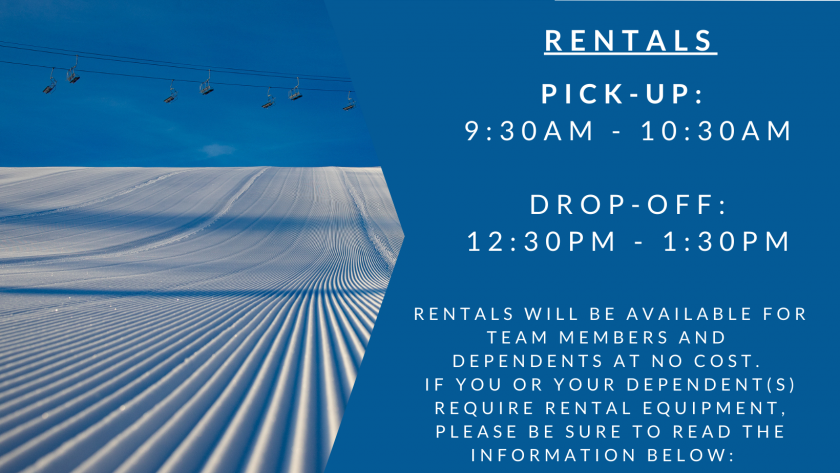 If you require rental equipment, you must: 
Fill out a rental form in the rental center by 1pm the day before the event.

OR

Download a group consent form and get it to the rental team either in-person or via email (rentalteam@skihood.com) by 1pm the day before the event.
Bus reservations will be required for the end-of-season appreciation event.
Reservations must be made by 3pm the day before the event.
Event Transportation is subject to change / cancellation, any changes to cancellations to the transportation schedule will be sent via Dayforce messages. 
– 90-minute Float certificates @ FLOAT ON, Portland
– Free games @ Escape Games PDX
– SunBum Swag
Gift Cards to: 
– Evoke Winery 
– Solera 
– Pine St. Bakery 
And so much more!